Reliable Provider of Finnish Education
VisitEDUfinn Ltd. was founded in 2016 by education professionals with a track record of organizing successful events, study tours, and school visits in other organizations. The current Chairman of the Board is Mr. Aulis Pitkälä, former Director-General of the Finnish National Agency for Education.
VisitEDUfinn is an official member of Education Finland. Education Finland is a governmental cluster program supporting the best education providers in their growth on the international market. The program is coordinated by the Finnish National Agency for Education. 
The solid growth of VisitEDUfinn was rewarded in 2018 when it earned it's first The Strongest in Finland -certificate. The certificate is a sign of a company's positive financial figures, background information, and good payment behavior. It tells the customers, partners, credit providers, and other stakeholders that cooperation with the company is on a steady foundation. The certificate is based on the Rating Alfa, a credit rating of Suomen Asiakastieto. The certificate has been renewed since. In 2020 we were upgraded to higher Rating and again in 2021 and in 2022- only 7% of enterprises in the industry have been awarded this grade or higher.
In 2019 VisitEDUfinn's Lapland International Forum for Education LIFE™ was one of the winners in the Authentic Finnish Educational Travel Product-contest and is therefore entitled to use the label Authentic Visit Finland Experience.
In 2020 VisitEDUfinn's track record and excellent reputation as a reliable partner in Educational Travel were the most important reasons why the Governmental organization Visit Finland (part of Business Finland) chose VisitEDUfinn to update their current guide for Educational Travel Best Practices. The new guide can be downloaded here. The same year VisitEDUfinn expanded its services in Estonia, using the company's official co-brand VisitEDUestonia. 
In response to COVID-19 and travel restrictions, VisitEDUfinn started to organize virtual school visits and study tours, gathering the online services under the new brand Virtual EDUcation Finland. 
In 2021 VisitEDUfinn got Biosphere's sustainability certification and Sustainable Travel Finland label as the first Study Tour organizer in Finland.
VisitEDUfinn is committed to promoting and developing sustainable educational travel. Our efforts have been recognized, and this encourages us to keep up the work of promoting Finnish education and giving our customers a full experience. Read more about our sustainable travel practices.
To help the tourism industry in Finland to adopt sustainable practices, Visit Finland has developed the Sustainable Travel Finland program. The program is designed for Finnish tourism companies and destinations to develop more sustainable practices. 
Biosphere certificate by the Responsible Tourism Institute develops certifications to guarantee compliance with the principles of sustainability and continuous improvement, through a private, voluntary and independent certification system.
In addition to sustainable travel, we take Corporate Social Responsibility seriously in our operations.
With that in mind, we've decided that even though COVID-19 has impacted our operations, we can manage the company quite well with 99,3%. Consequently, we decided to donate 0,7% of our revenue to @Plan International. In 2021, we dedicated the donation especially to support girls' possibility to go to school. In 2022 and 2023, we supported war victims in Ukraine.
Read more about girls' education and the Ukraine appeal.
VisitEDUfinn founding members
Piia Roos
PEDAGOGICAL EXPERT
Sari Kontra
SPECIAL EDUCATION TEACHER
From Old School to New School: The Evolution of Our Workplace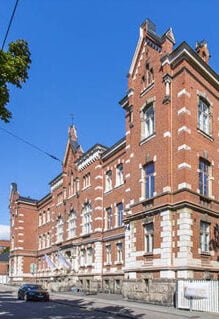 We have moved! Our earlier office was in an old school building from the 19th century that was home to Helsinki's Center for Education and Development. In 2023, we needed to move and started to look for an education-related location. Finally, we found a new home for us within the Eira High School for Adults. The school has two localities, and we are situated in Iso Roobertinkatu, a pedestrian street right in the city center, approximately a 10-minute walk from the central railway, metro, and bus stations. 
Contact VisitEDUfinn
Get in touch with us to hear more about the different options. Let's plan together a visit to remember!
Meet the Team
Get to know our team, representatives abroad and our educational experts.