EDUCATION ONLINE SERVICES
Virtual Sister School Connection
Thanks to our network of Finnish teachers and schools, we can offer your class a virtual connection to a Finnish sister school. You and your students will be matched to a class in Finland, and have the opportunity to meet and get to know the students and teachers there. You can even collaborate together on a joint learning project!
EDUCATION ONLINE SERVICES
Free Finnish School Visit Tasting
VisitEDUfinn gives now everyone a chance to visit a Finnish classroom free of charge - would you like to see what happens in a Finnish classroom and get a better understanding of the basic principles of Finnish education?
EDUCATION ONLINE SERVICES
Teach in a Finnish School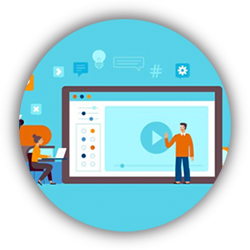 Interested in experiencing the inner workings of a Finnish school firsthand? VisitEDUfinn Ltd. has developed three modular Virtual Teacher Training Courses, as well as a Quick Boost Option, that will provide you with in-depth knowledge of the Finnish approach to learning. Each course enables you to teach Finnish students, and get feedback from a Finnish teacher.