Would you like to explore the secrets of Finnish learning culture – share the tricks and treats of key features of basic education and child centered learning in Finland?


The workshop introduces for You the Finnish collaborative learning culture, its ethos and practice
You get acquainted with Finnish child- centred learning culture and how it translates positively into the classroom
You will learn about collaborative teaching and learning as well as progressive self- and peer-assessment
Extra emphasis is on reflective and researching pedagogical thinking as a teacher
Training is aimed for local administration, school personal, teacher training units, parents and other school related stakeholders. The get the most out of the training, it is recommended to include persons from all these categories. Workshop is always customized according to your actual needs.  Length can be anything but one week is the most common choice, including some basic lectures, workshops and sharing among the participants.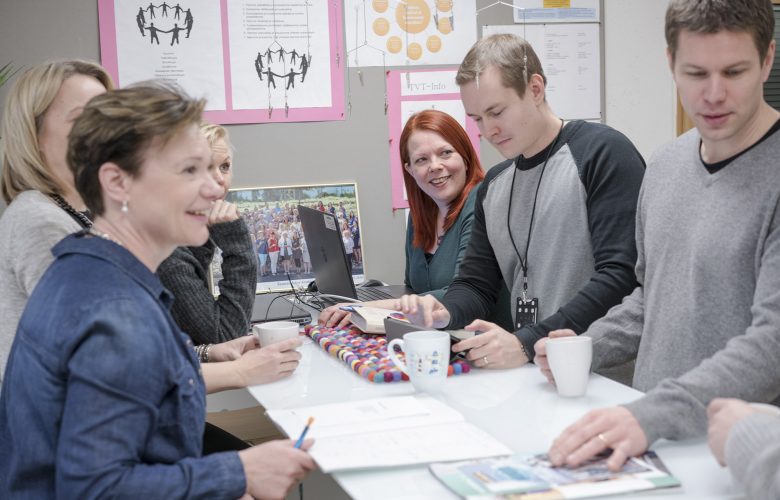 The training bases on Finnish national curriculum
The methods used will be empowering and creative
Includes engaging study projects that will strengthen the participants' professional skills
The pedagogical approach is in the student-centered interactive and inspiring learning sessions.
Participants are encouraged to take an active role and work collaboratively
A strong emphasize will be put on transversal competences such as thinking and learning-to-learn, cultural competence, interaction and expression skills, managing daily life and taking care of oneself, interaction and self-expression, multiliteracy and ICT competence, working life competence and entrepreneurship as well as participation, involvement and building a sustainable future.
EXAMPLE PROGRAM FOR A FIVE-DAY TRAINING:
Day 1 Introduction: Key features of Finnish education system (no limit for group size)
Local, regional, national, international cultural features in education, brief history of Finnish education, educational traditions to be shared
Basic principles / key factors of Finnish early learning and basic education
The concept of learning environment, learning space, collaboration and learning and sharing together
Important: Possibility for meetings with local decision makers, journalists, etc.
Day 2-4 Workshops:  Select the themes of your interest (max. group size 30 persons)
Acquaintance with curricular issues and needs
Assessment; formative, summative, informative, self-assessment
Daily management; timetables, subjects, phenomenal learning, class management, social skills, anti-bullying, homework, flipped learning
Motivated students – how to build up a high-quality learning process?
Enhancing student participation, increasing the meaningfulness of the studies, promoting each student's experience of success
Student welfare, overall well-being foundation for well learning
Reflective teachers, personal growth, the principles of lifelong learning
Sharing and learning together, peer-working and sharing
Researching teachers, sources and material for further studies
Day 5 Wrap-up day (max. group size 30 persons)
Wrap-up: what we have learned
Reflexion: themes of workshops and the local reality
Making action plans: What we can do to improve the learning results
Sharing with peers and if possibly, with different stakeholders
VisitEDUfinn has a wide network of education professionals that have been lecturing and having workshops for our events and visit program participants. Most of them are also interested in training outside Finland. Visit our website to learn more about some of them: https://visitedufinn.com/contact-us/
VisitEDUfinn's education expert Ms. Leena Heinilä visited Gibraltar last December. Read what local teachers and authorities say about the training program she conducted there: VOX Gibraltar News
PRICE FOR A FIVE-DAY TRAINING PROGRAM: 9500€
Includes:
planning the content for the training together with our expert
training at your country
materials
expert's availability 8 hours/day, during five days
Does not include:
flights
local accommodation
local transportation
We offer our training programs also in Spanish, see an example below