Language-rich environment – supporting children's linguistic identities in Finnish Early Childhood Education
written by M.Ed Heidi Wartiainen & Ph.D Piia Roos
Like many other countries, Finland is rapidly internationalizing and the languages spoken in Finland are diversifying.  One concert example of internationalization is the area around our capital, Helsinki metropolitan area. It is the most densely populated area in Finland with 1,5 million inhabitants and approximately 18 per cent of them are with a foreign background. This mixture of cultures reflects also Early Childhood Education and Care (ECEC*) and you can find centres from this area, where children are more likely to represent some other nationality than Finnish. 
In this blog, we open how ECEC centres in Finland have responded to this challenge of mixture languages and cultures. We describe the operational culture related to supporting children's linguistic identities in one metropolitan municipality. In addition, we highlight the importance of understanding the central role of language in children's holistic growth, development and learning.  The importance of respect towards other cultures and languages from the viewpoint of collaboration with parents is also considered. 
Even though the Finnish cultural heritage and language are seen as a foundation of ECEC, the variety of cultures and languages are appreciated as well. In the National Core Curriculum of Finnish ECEC (Finnish National Agency of Education 2018), it is said clearly that language enrichment and supporting linguistic development apply to all children regardless of their mother tongue. The Core Curriculum encourages making multilingualism and multiculturalism visible holistically in the Finnish society.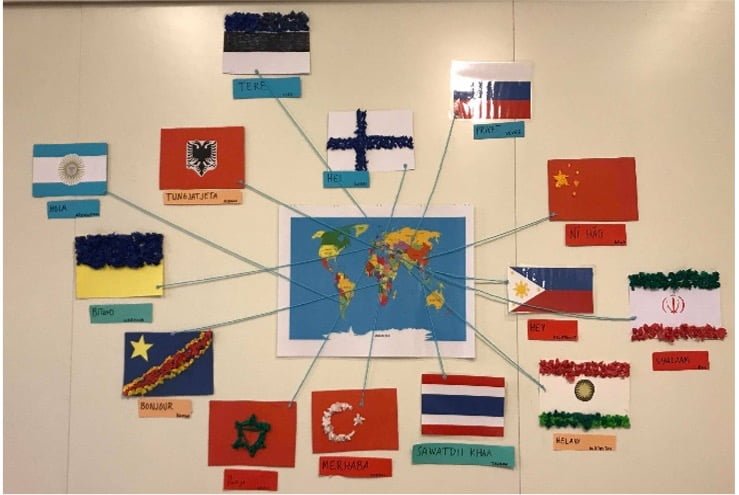 In Finnish ECEC the language skills of foreign language speaking and multilingual children are supported from two different viewpoints: learning Finnish and strengthening child's mother tongue. Often ECEC is the starting point of getting familiar to Finnish culture and language. Learning Finnish supports the integration into Finnish society. Along with supporting Finnish skills the importance of mother tongue is acknowledged and all languages and cultural backgrounds represented in certain ECEC centre are highlighted in learning environment for example by flags, maps and texts written in foreign languages.
The target of Finnish* as second language teaching (shortened S2 teaching) in ECEC is to develop children's Finnish language skills practically and functionally. The starting point for S2 teaching is to connect learning to play and other child-orientated activities. The child learns the language best in a playful manner and in situations that are meaningful to her or him. A child's strengths, interests, needs and level of language skills guide the planning and implementation of S2 teaching. In S2 teaching attention is paid to the same six different areas of linguistic development (figure 1), which form the foundation for the development of linguistic identities for all children, not only foreign language speaking children
Language is strongly linked to interaction and participation. Teacher is an important linguistic model for a child and therefore she or he should pay close attention to clear speech and rich language. Goal-oriented and pedagogically planned sessions are an important part of S2 teaching. In these sessions individual linguistic skills and interests are easy to take into account. Teacher also encourages Finnish speak children to use as versatile language as possible. Because children learn new language effectively by adopting it from other children, close attention is paid specially to ensuring the access to play. In addition, different languages are widely visible in learning environment.
A positive, unhurried and supportive atmosphere arouses interest towards learning Finnish and encourages the child to use it. The starting point is to learn the vocabulary needed in everyday activities. Learning the vocabulary connected to clothing, food and different activities helps a child to manage daily life. After this, the vocabulary is expanded one topic at a time. For example, the category could be "animals". The names of different animals are taught in many ways. New words are combined widely to different activities inside and outdoors. Singing songs and reading stories about animals, in the gym moving like animals, playing animal memory game and connecting animals also to child-oriented play, where teacher can enrich the play with the words learned during other activities.
As known, permanent structures in daily activities create safety for children. The use of images helps greatly to anticipate these activities, understand the instructions and make choices. In addition, images help children to share their thoughts and wishes and describe what has happened during the day. Various photographs, cartoons, images of emotions, image maps, symbols and fast drawing technology, as well as the use of a tablet, give structure to daily activities and enables a child's participation. They also enhance Finnish language skills.
Like mentioned before, along with teaching and learning Finnish the value of a child's mother tongue is acknowledged in Finnish ECEC. A child's identity and knowledge about their own culture are shaped strongly by their native tongue. It is also the foundation for learning a new language. In addition, mother tongue is a language used while thinking and imagining, and most importantly the language of expressing feelings. In figure 2 some concrete ways to take different languages and cultural backgrounds into account in a learning environment are represented.
When different languages and cultures are valued, it strengthens children's self-esteem and cultural identity. It also forms a good basis for cooperation with parents. In Finland, the development of the child's mother tongue is systematically monitored in close co-operation with parents. An essential part of this co-operation is to provide families with sufficient information about the importance of teaching their mother tongue to their child. The underlying responsibility belongs to parents, although children's mother tongues are part of a language-rich environment in ECEC centres.
The values in Finnish ECEC stress out how "each child is unique and valuable just as she or he is" (The Core Curriculum 2018). In addition, the right to be heard, seen, noticed and understood as themselves and as a member of their community belongs to all children regardless of their cultural background or other reasons related to the person (The Core Curriculum 2018). To reach these goals every child needs to get support for the development of language awareness, as well as knowledge of cultural diversity and sustainability. In Finnish ECEC the individual needs of each child form the foundation for pedagogy. In many cases, it means paying special attention to supporting children's linguistic identities in a language-rich environment.

Dr. Piia Roos (teacher of early years, PhD) has over 10 years of experience as a teacher and a leader in Finnish ECEC centers. For the past 10 years she worked as a teacher in vocational college for practical nurses majoring in early childhood education. Now Roos works as an educator and consult through her own company. In addition, she is a visiting lecture at Tampere University of Applied Science, and a partner and pedagogical expert in VisitEDUfinn Ltd. Her special interests are children's perspective and participation.
Heidi Wartiainen (M.Ed) is a strong professional in the field of education. Her special areas of expertise are ECE pedagogy, mentoring, playful learning and digital pedagogy. Heidi has worked as an early years teacher for 10 years. Currently, she is a development manager in Vertikal Ltd. In addition, she is a freelance lecture majoring in children's social and emotional skills and also skills how to teach a second language to children.
More about early childhood education with VisitEDUfinn